The Village of Rapids City
WHEN ENTERING THE BUILDING FACE COVERINGS ARE REQUIRED TO BE WORN BY ALL INDIVIDUALS, WHEN MEDICALLY TOLERABLE, WHO ARE IN PUBLIC PLACES AND UNABLE TO MAINTAIN ADEQUATE SOCIAL DISTANCING OF 6', EXCEPT FOR CHILDREN UNDER THE AGE OF 2 AND WHEN WITH MEMBERS OF THE SAME HOUSEHOLD.
THANK YOU FOR YOUR COOPERATION & EVERYONE PLEASE STAY SAFE.
---
STATEMENT FROM RAPIDS CITY VILLAGE PRESIDENT HAROLD MIRE, JR
CHANGE IN LAW ENFORCEMENT SERVICES PROVIDER
There are times when we are called upon to make tough decisions, decisions we wish we didn't have to make. However as Leaders of the Community, we don't have an option of running away from the decision, putting our head in the sand or hoping someone would make the decision for us. It is during times like these that I seek spiritual guidance and wisdom because I know my recommendation will impact this community. Such a recommendation and decision had to be made last night.
The Village Board met last night to select a Law Enforcement Services Provider for the next 3 years. There were two contracts under consideration, one from the Hampton Police Department and the other from the Rock Island County Sheriff's Office. Speaking on behalf of Hampton was Mayor Vershaw, Trustee Bornhoeft and Chief Tone. Speaking on behalf of the Rock Island County Sheriff's Office was Sheriff Gerry Bustos. Also speaking were Mayor Bruce Peterson, Port Byron, and Mayor Jim Boone, Cordova. These two Mayors were effusive in their praise of the County Sheriff's Office and its community policing tactics in their villages.
Trustees asked questions of both agencies and engaged in discussion. This was a most difficult decision for them as well. I appreciate their wisdom and respect the manner in which they perform their duties for the betterment of this community.
As Village President I felt it necessary to provide a recommendation to the Board. My first and foremost question I always concern myself with is, the safety and welfare of the citizens and children of this community. When I examined both contracts there was very little difference, in my opinion, regarding the level of service promised. Both offered approximately 30% dedicated coverage, with Hampton indicating 30% daily and the Sheriff's Office 30% per shift, 24/7. However, Hampton's contract specifically excluded animal control and the Sheriff's Office included animal control. That verbiage had never been in any previous contract with Hampton. Hampton has limited resources and the Sheriff's Office has greater resources both in manpower and equipment.
Since all things were at least equal or favorable to the contract of the Sheriff's Office, I then focused on pricing. The Sheriff's Office was approximately $40,000 or 38.1% cheaper annually than Hampton for the same or better service. Over a 3 year period that equaled a savings of $121,000 to the Village. Let me put this in a different perspective, we collect approximately $160,000 annually in property taxes so this savings of $121,000 in three years would equal 75.5% of our annual property tax revenue, a significant sum of money.
Therefore with the same or better protection and coverage for the Village of Rapids City and with a substantial savings to benefit the Village, I recommended and the Board of Trustees accepted the contract of the Rock Island County Sheriff's Office. The Board voted 5-1 to employ the services of the Rock Island County Sheriff's Office for Law Enforcement Protection beginning April 1, 2021.
I wish to thank Mayor Vershaw for his cooperation throughout the years and I want to wish Mayor-Elect Bornhoeft success as he assumes the Leadership in Hampton. I wish the Hampton PD continued success and well-being. Most of all I want to thank deceased Chief Engle for his tireless efforts to make our communities a better place to live and raise our children. Brother you are missed more than you could have ever imagined.
To the Board of Trustees thank you for being the Best Board a Mayor could ever ask for. It is an honor to serve with people whose only interest is the community of which they serve.
Finally to my fellow citizens, I ask for your understanding and support. We have big obstacles facing us in the next year and we will need to summon up the resolve to tackle the big projects that must be undertaken.
Take Care and Stay Safe
Harold Mire, Jr.
Rapids City Village President
---
Located at the upper end of the Rock Island Rapids, Rapids City grew around the site of a grist and saw mill. Laid out in 1838 and incorporated in 1875, the village boomed during the 1870's through the 1880's. Because of neighboring coal mines during this period, grocery and dry goods stores, a blacksmith shop, a restaurant, hotel, millinery and shoe store provided services for miners, farmers, and their families. Charles Shuler operated the Rapids City Coal Mining Company during the 1880's.
Modern day Rapids City is located in the eastern portion of the Quad City metropolitan area along the banks of the Mississippi river in northwestern Illinois. It is a part of Rock Island County and is situated where Interstate 80 crosses into Iowa. Rapids City's land area equals 960 acres with a perimeter boundary just under 6 miles. The current population of 960 citizens is growing due to increased housing starts in new subdivisions.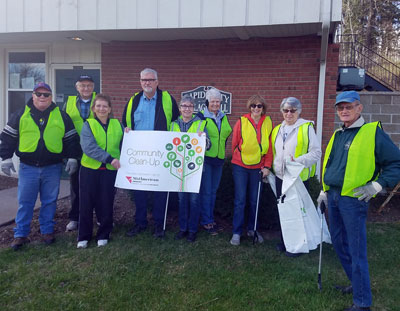 2018 Community Clean-up Day
---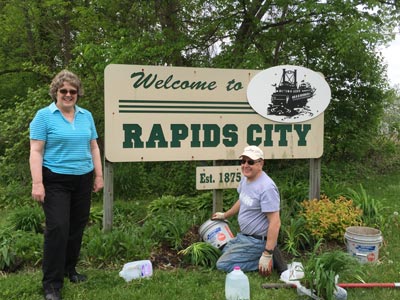 Rapids City Junior Women's Club volunteer project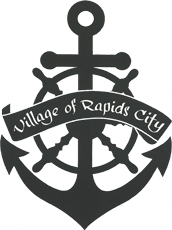 News and Events
The Village of Rapids City has provided a link to the Rock Island County Health Department website to aid with the COVID-19 vaccination process. https://www.richd.org/ If you have questions related to public health please contact the Rock Island County Health Department.
---
Village Board Meetings are held the 2nd Tuesday of each month. At this time the meetings are being held upstairs at Village Hall located at 1204 4th Avenue. All meeting attendees are required to wear a mask when medically tolerable to prevent the spread of COVID-19.
---
Committee of the Whole Meetings & Agendas
---

---

Your Annual Water Quality Report is now available at www.ilrwa.org/CCR/RapCity.pdf.