The Village of Rapids City
DUE TO THE COVID-19 VIRUS THE VILLAGE OF RAPIDS CITY OFFICE WILL BE CLOSED TO ALL WALK-INS
OUR OFFICE IS OPEN DURING NORMAL BUSINESS HOURS TO SERVE YOU. IF YOU NEED TO SPEAK TO SOMEONE IN THE OFFICE PLEASE CALL 309-496-2321 PRIOR TO COMING TO THE OFFICE.
IF YOU ARE MAKING A PAYMENT PLEASE USE THE DROP BOX LOCATED TO THE LEFT OF THE ENTRANCE DOOR BELOW THE WINDOW.
YOU MAY MAKE AN APPOINTMENT FOR IN PERSON ASSISTANCE BY CALLING 309-496-2321.
WHEN ENTERING THE BUILDING FACE COVERINGS ARE REQUIRED TO BE WORN BY ALL INDIVIDUALS, WHEN MEDICALLY TOLERABLE, WHO ARE IN PUBLIC PLACES AND UNABLE TO MAINTAIN ADEQUATE SOCIAL DISTANCING OF 6', EXCEPT FOR CHILDREN UNDER THE AGE OF 2 AND WHEN WITH MEMBERS OF THE SAME HOUSEHOLD.
THANK YOU FOR YOUR COOPERATION & EVERYONE PLEASE STAY SAFE.
---
11-18-2020
RAPIDS CITY PRESIDENT HAROLD J. MIRE JR. & BOARD OF TRUSTEES ARE PLEASED TO ANNOUNCE
THE 4TH ANNUAL SENIOR THANKSGIVING APPRECIATION LUNCHEON FOR RAPIDS CITY'S SENIOR CITIZENS 60+
This year's event will have a bit of a twist due to the COVID-19 virus.
We invite you to take advantage of a drive thru Thanksgiving meal pickup. Meals will be packaged by Village President, Trustees and Staff.
Meals may be picked up on
November 18th, 2020 at Village Hall
between 11am and 2pm.
Meal options include your choice of :
Turkey
Mashed Potatoes
Gravy
Green Bean Casserole
Roll with Butter
Your choice of one piece of pie:
Pumpkin
Pecan
Apple
Orders will be taken for your meal on the day of the event at Village Hall. If you are not able to drive please call Village Hall to order your meal, 309-496-2321, delivery can be arranged.
This is a free luncheon to honor our Senior Citizens.
---
Located at the upper end of the Rock Island Rapids, Rapids City grew around the site of a grist and saw mill. Laid out in 1838 and incorporated in 1875, the village boomed during the 1870's through the 1880's. Because of neighboring coal mines during this period, grocery and dry goods stores, a blacksmith shop, a restaurant, hotel, millinery and shoe store provided services for miners, farmers, and their families. Charles Shuler operated the Rapids City Coal Mining Company during the 1880's.
Modern day Rapids City is located in the eastern portion of the Quad City metropolitan area along the banks of the Mississippi river in northwestern Illinois. It is a part of Rock Island County and is situated where Interstate 80 crosses into Iowa. Rapids City's land area equals 960 acres with a perimeter boundary just under 6 miles. The current population of 960 citizens is growing due to increased housing starts in new subdivisions.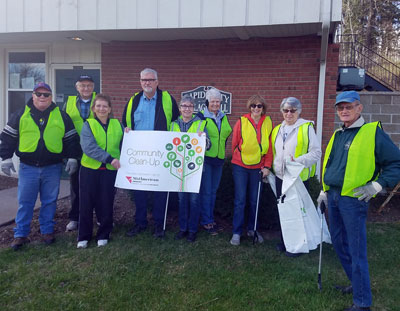 2018 Community Clean-up Day
---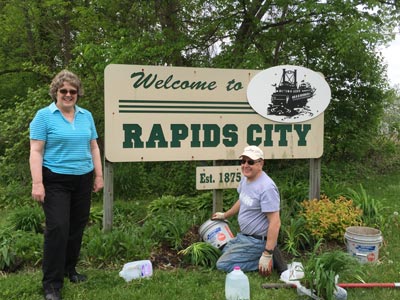 Rapids City Junior Women's Club volunteer project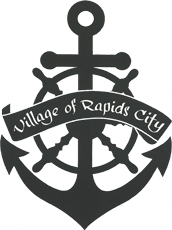 News and Events
Village Board Meetings are held the 2nd Tuesday of each month. At this time the meetings are being held upstairs at Village Hall located at 1204 4th Avenue. All meeting attendees are required to wear a mask when medically tolerable to prevent the spread of COVID-19.
---
10-30-2020
Due to COVID-19 our traditional children's Halloween Party has had to be canceled.
On Friday, October 30th the Village Board will have treat bags filled will goodies for Rapids City children to take off a table located at Rapids City Village Hall. Please remind your child only one bag per child and to practice social distancing while taking a bag.
Bags were donated by MidAmerican Energy and candy was purchased by the Village of Rapids City.
---
10-31-2020
Halloween Trick or Treat hours will be 5pm to 8pm on Saturday, October 31st.
All residents are urged to use their own discretion as to if they would like to participate in the festivities. As President Mire has stated " I trust that each parent and resident will take the necessary precautions to safeguard our most precious treasures, our children." A link has been provide to review the CDC guidelines for a safe Trick or Treating evening. https://www.cdc.gov/.../daily.../holidays/halloween.html
---
Your Annual Water Quality Report is now available at www.ilrwa.org/CCR/RapCity.pdf. To speak with someone about this report or to have a copy of it mailed to you, please call 309-496-2321.
Free Blood Pressure Checks each Thursday at Village Hall at 10:00am. If Medics have an
We now have a "Little Library" located at 730-17th Street, alongside of the maintenance shop. This is a take and leave books. It was donated by the Rotary Club. Please take advantage of this awesome new addition to our community!