The Village of Rapids City
Village of Rapids City
Notice of
Employment Opportunity
Position: Billing Clerk
The Billing Clerk is responsible for performing clerical duties such as billing, records keeping, licensing and permit fee applications and collections and other duties assigned by the Village Clerk. The position requires oral and written communications skills, integrity, proficiency in Microsoft Office Suite, ability to learn village billing systems.
Hours: Part-time as determined by Clerk
Experience:
• 6 months to 1 year experience in clerical and billing functions in administrative position is preferred.
Education:
• High school or equivalent (Required)
Please send or drop off resume to:
Village of Rapids City
1204 4th Avenue
PO Box 134
Rapids City, IL 61278
Or via email to vorc@rapidscity.us
Applications will be taken through April 18th, 2019.
---
March 20, 2019
Dear Resident(s):
Thank you to those who were able to attend the Village Emergency Flood Meeting. For those of you who weren't able to attend, I'd like to provide you with a brief synopsis of the meeting.
The Village discussed the anticipated flood event based on current projections. Those projections call for a better than 50% chance of a flood level similar to the 1993 and 2001 floods. This would mean that at least two feet of water would cover 1st Avenue. There is also a 22% chance of a flood level similar to the 1965 flood level which would mean approximately 3 ½ foot of water over 1st Avenue. The Village has a plan for traffic control based on the varying levels of flooding.
Last week we secured 10 Hesco Barriers from the Rock Island District's National Flood Fight Material Center that will be utilized to protect the main lift station on 14th Street. We have also purchased 10 additional Hesco Barriers to be utilized as needed. As the event approaches, we will be blocking manhole covers with sandbags on the streets north of IL 84 so please be careful when driving. Additionally we secured a sufficient amount of sand for the Hesco Barriers and Sandbags. Unfilled Sandbags and sand will be provided at two locations which will be announced in the very near future. We are working to secure volunteers to help fill the bags when the time approaches.
We also need your help. If you have Sump Pumps please do not tie them into the sewer system. Make sure if you have floor drains that they are plugged or covered. Finally, check your sewer cleanout in your yards to make sure the cap is not broken and it is sealed. If you have any questions, please contact the Village Office at 309-496-2321 and we will have one of our Public Works people get back to you.
Stay informed by updating your telephone number with the Village Office; follow our web page and our Facebook page. We will keep you updated as events warrant and let's hope all this planning is for nothing.
Thank you for pulling together like a great community always does. It is indeed an honor for all of us to serve you.
Sincerely,
Harold Mire, Jr.
Village President
Village of Rapids City
---
Located at the upper end of the Rock Island Rapids, Rapids City grew around the site of a grist and saw mill. Laid out in 1838 and incorporated in 1875, the village boomed during the 1870's through the 1880's. Because of neighboring coal mines during this period, grocery and dry goods stores, a blacksmith shop, a restaurant, hotel, millinery and shoe store provided services for miners, farmers, and their families. Charles Shuler operated the Rapids City Coal Mining Company during the 1880's.
Modern day Rapids City is located in the eastern portion of the Quad City metropolitan area along the banks of the Mississippi river in northwestern Illinois. It is a part of Rock Island County and is situated where Interstate 80 crosses into Iowa. Rapids City's land area equals 960 acres with a perimeter boundary just under 6 miles. The current population of 960 citizens is growing due to increased housing starts in new subdivisions.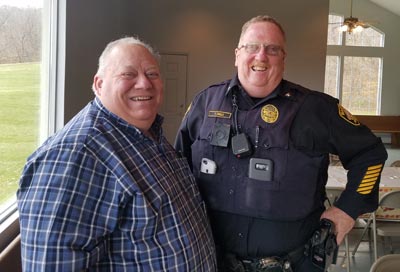 Left - President Harold J. Mire Jr. Right - Hampton Police Chief Terry Engle
---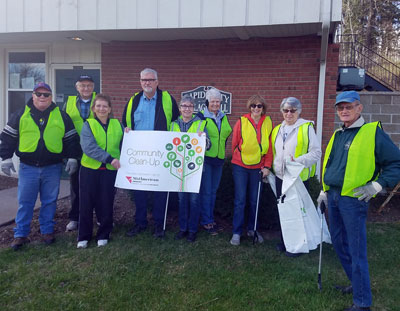 2018 Community Clean-up Day
---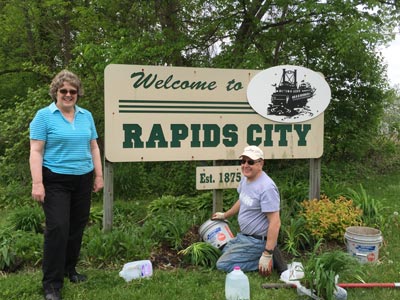 Rapids City Junior Women's Club volunteer project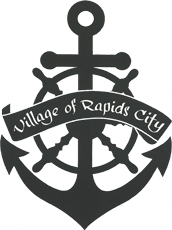 News and Events
Village Board Meetings
2nd Tuesday of every month
7 P.M., Rapids City Village Hall
---
This link to the National Weather Service website has been provided to help our residents track Mississippi River water levels in our area.
VILLAGE OF RAPIDS CITY
NOTICE OF REGULAR BOARD MEETING CHANGE
Original Date: Tuesday, May 14th, 2019
New Date: Wednesday, May 1st, 2019
Time: 7:00 p.m.
Place: Rapids City Village Hall
1204-4th Ave.,
Rapids City, IL
All regular Board Meetings are open to the public.
---
VILLAGE OF RAPIDS CITY
PUBLIC HEARING AND
COMMITTEE OF THE WHOLE MEETING
Date: Thursday, April 25th, 2019
Time: 7:00 p.m.
Place: Rapids City Village Hall
1204-4th Ave.,
Rapids City, IL
To Discuss:
Appointment of Budget Officer
Reallocation of funds in the 2018/2019 Budget
The reading of 2019/2020 Budget
Passage of 2019/2020 Budget
This meeting is open to the public.
---
Your Annual Water Quality Report is now available at www.ilrwa.org/CCR/RapCity.pdf. To speak with someone about this report or to have a copy of it mailed to you, please call 309-496-2321.
Free Blood Pressure Checks each Thursday at Village Hall at 10:00am. If Medics have an emergency call pressure checks may be canceled without notice.
We now have a "Little Library" located at 730-17th Street, alongside of the maintenance shop. This is a take and leave books. It was donated by the Rotary Club. Please take advantage of this awesome new addition to our community!
RAPIDS CITY RESIDENTS
NOTICE OF
CONSOLIDATED ELECTION APRIL 2ND, 2019.