The Village of Rapids City
Located at the upper end of the Rock Island Rapids, Rapids City grew around the site of a grist and saw mill. Laid out in 1838 and incorporated in 1875, the village boomed during the 1870's through the 1880's. Because of neighboring coal mines during this period, grocery and dry goods stores, a blacksmith shop, a restaurant, hotel, millinery and shoe store provided services for miners, farmers, and their families. Charles Shuler operated the Rapids City Coal Mining Company during the 1880's.
Modern day Rapids City is located in the eastern portion of the Quad City metropolitan area along the banks of the Mississippi river in northwestern Illinois. It is a part of Rock Island County and is situated where Interstate 80 crosses into Iowa. Rapids City's land area equals 960 acres with a perimeter boundary just under 6 miles. The current population of 960 citizens is growing due to increased housing starts in new subdivisions.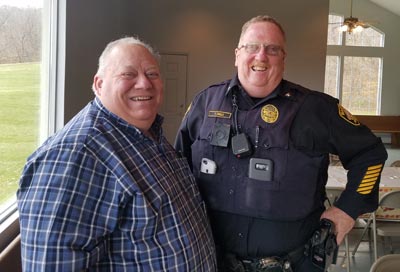 Left - President Harold J. Mire Jr. Right - Hampton Police Chief Terry Engle
---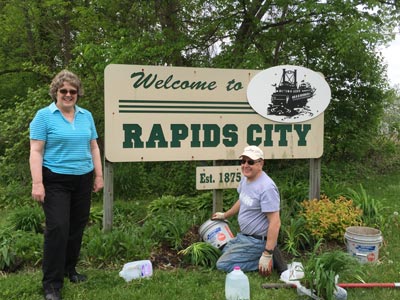 Rapids City Junior Women's Club volunteer project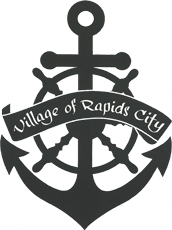 News and Events
Village Board Meetings
2nd Tuesday of every month
7 P.M., Rapids City Village Hall
May 1st, 2018 a Village of Rapids City Public Hearing will be held to discuss the Operating Budget at 6:30pm.  The Village of Rapids City Regular Board Meeting will follow the Public Hearing at 7:00pm.  There will be no Regular Board Meeting on May 8th, 2018.
Rapids City will be holding an E-Waste Event on April 21st, 2018 from 9:00am to 12:00pm. Collection of e-waste will be at the lot across from Brother's Family Restaurant on Route 84. This event will be for Rapids City residents only, ID will be required for this event. E-Waste Chart
Community Clean-Up Day will be held on April 28th, 2018. Volunteers please meet at Rapids City Village Hall at 9am. Clean-up areas will cover the Bike Path along Route 84, 12th Street and 17th Street. For more information please call the Village Office at 309-496-2321.
The President and Board of Trustees of Rapids City would like to invite all Rapids City Active/Reserve Military and Veterans to an appreciation luncheon honoring their service May 19th, 2018 from 11am to 1pm at the Rapids City Community Center. The Village is also please to announce a Representative from the VA will be at this event to reach out to aide anyone whom may be interested in the services they provide.  If you are interested in becoming a volunteer to help serve our Veterans and Military Personnel please contact the Village Office at 309-496-2321.
Free Blood Pressure Checks each Thursday at Village Hall at 10:00am. If Medics have an emergency call pressure checks may be canceled without notice.
We now have a "Little Library" located at 730-17th Street, alongside of the maintenance shop. This is a take and leave books. It was donated by the Rotary Club. Please take advantage of this awesome new addition to our community!
Your Annual Water Quality Report is now available at the Illinois Rural Water Association. This report contains important information about the source and quality of your drinking water. To speak with someone about this report or to have a copy of it mailed to you, please call (309) 496-2321.