The Village of Rapids City
---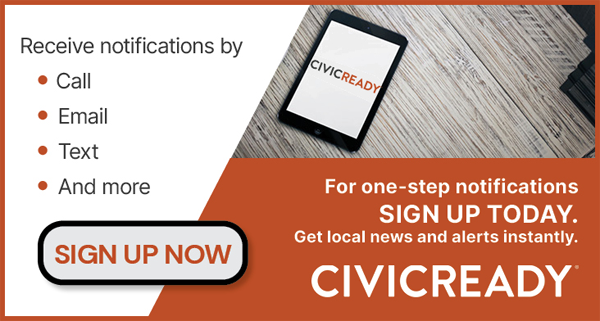 Sign Up Today!
Make sure you stay safe and informed by receiving notifications & alerts from the Village! To join us on Civic Ready click on the picture below to set up your personal account setting.




Download the Alert Me app in the Google Play Store or the Apple App Store.
Located at the upper end of the Rock Island Rapids, Rapids City grew around the site of a grist and saw mill. Laid out in 1838 and incorporated in 1875, the village boomed during the 1870's through the 1880's. Because of neighboring coal mines during this period, grocery and dry goods stores, a blacksmith shop, a restaurant, hotel, millinery and shoe store provided services for miners, farmers, and their families. Charles Shuler operated the Rapids City Coal Mining Company during the 1880's.
Modern day Rapids City is located in the eastern portion of the Quad City metropolitan area along the banks of the Mississippi river in northwestern Illinois. It is a part of Rock Island County and is situated where Interstate 80 crosses into Iowa. Rapids City's land area equals 960 acres with a perimeter boundary just under 6 miles. The current population of 960 citizens is growing due to increased housing starts in new subdivisions.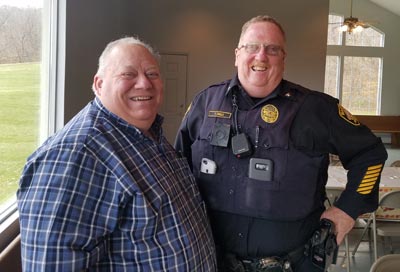 Left - President Harold J. Mire Jr. Right - Hampton Police Chief Terry Engle
---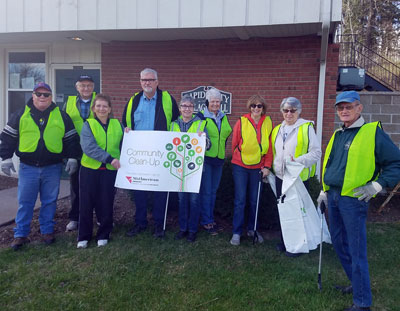 2018 Community Clean-up Day
---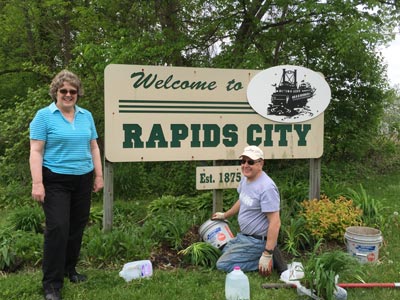 Rapids City Junior Women's Club volunteer project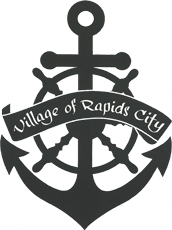 News and Events
Village Board Meetings
2nd Tuesday of every month
7 P.M., Rapids City Village Hall
---
VILLAGE OF RAPIDS CITY COMMITTEE OF THE WHOLE MEETING
Date: Wednesday, October 23rd, 2019
Time: 6:30 p.m.
Place: Rapids City Village Hall
1204-4th Ave.,
Rapids City, IL
To Discuss:
• K. Satizahn zoning request
This meeting is open to the public.
NOTICE OF PUBLIC HEARING OF THE VILLAGE OF RAPIDS CITY PLANNING & ZONING COMMISSION
The Village of Rapids City Planning & Zoning Commission has received requests from Kathy Sattizahn to A.) Combine parcels 06-230-B and 06-230-D, once combined use the address of 1600 1st Avenue A; B.) Rezone parcels 06-230-B and 06-230-D from R-1 Residential District to R-2 Residential District in the Village of Rapids City, Hampton Township, Rock Island County, IL. Said public hearing will be held at the Rapids City Village Hall; 1204 4th Avenue, on Tuesday, October 22nd, 2019, at 6:30 p.m.
All persons interested may attend. Those wishing to address the Commission may do so in person or in written form.
The Village Board is hosting Halloween Party from 3-5p.m on October 27th, 2019. A costume contest will be held for children ages 1 to 10, activities, hot dogs, chips, treats and treat bags will be available for the children.

Trick or Treating within the Village will be held on Thursday, October 31st, 2019 from 5pm to 8pm. The Village is asking everyone to refrain from burning Halloween night so all our ghosts and goblins can be seen.

Rapids City President Harold Mire Jr. & Board of Trustees are pleased to announce the 3rd Annual Senior Thanksgiving Appreciation Luncheon for Rapids City Senior Citizens 60 years of age and over. Please join us at the Rapids City Community Center for lunch on Wednesday, November 20th, 2019 at 11:30am – 1:30pm with serving beginning at noon. This is a free luncheon to honor our Rapids City Senior Citizens.

Rapids City President Harold Mire Jr. & Board of Trustees are excited to announce we will be holding a Children's Holiday Craft Party with a special appearance from Santa. Parents are welcome to bring children on Sunday, December 8th, 2019 from 2pm – 4pm at the Rapids City Community Center. A craft will be available to make during the party along with other activities while waiting to see Santa. Parents are welcome to take pictures of their children with Santa before you go. We hope to see you there!
Your Annual Water Quality Report is now available at www.ilrwa.org/CCR/RapCity.pdf. To speak with someone about this report or to have a copy of it mailed to you, please call 309-496-2321.
Free Blood Pressure Checks each Thursday at Village Hall at 10:00am. If Medics have an emergency call pressure checks may be canceled without notice.
We now have a "Little Library" located at 730-17th Street, alongside of the maintenance shop. This is a take and leave books. It was donated by the Rotary Club. Please take advantage of this awesome new addition to our community!